Twenty-sixth Sunday in Ordinary Time
Sunday, September 25, 2016
Liturgical Reflection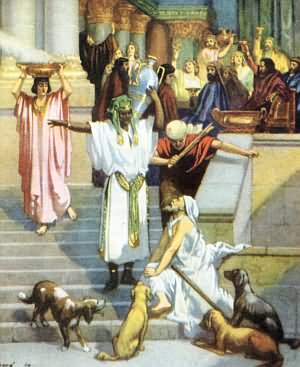 There are the rich and there are the poor. The great sin is that of uncaring complacency. Every community of faith is charged with finding ways to share its resources to those in need. A caring heart, a heart full of mercy seeks to help the poor. Our Diocese has very active members of the Saint Vincent de Paul Society that reaches out to each person in need at the local level. (The Church in the annual calendar remembers Saint Vincent de Paul this Tuesday.) Have you shared some of your wealth with the Saint Vincent de Paul Society? The worse response would be apathy. It is mercy that leads us to reach out to those in need. Lord, give us a merciful heart!
- 2016, Diocese of Altoona-Johnstown, Liturgy Office
PRO-LIFE CORNER
The founders of our country declared that each human being has certain inalienable rights that government must protect. It is no accident that they named life before liberty and the pursuit of happiness. Life itself is a basic human good, the condition for enjoying all other goods on this earth. Therefore the right to life is the most basic human right. Other valued rights-the right to vote, to freedom of speech, or to equal protection under law-lose their foundation if life itself can be destroyed with impunity.-
- www.usccb.org
Thank You!
We thank Gregory and Rosemary Price for their donation of $5,500 to establish the Gregory and Rosemary Maruca Scholarship. The amount of $500.00 will be awarded annually to a Sacred Heart senior at Bishop Guilfoyle Catholic High School for the next 10 years. The initial year, 2017, will have two scholarships ($500.00 + $500.00).

Also, the Price Family donated $7,500.00 to Sacred Heart Parish Endowment Fund in memory of Rosemary and Gregory Maruca. May their generosity towards our young parishioners and the future endowers of Sacred Heart Parish be greatly blessed by our Lord.
Christian Initiation
God never tires of forgiving us. We at times may tire of pursuing righteousness, devotion, faith, love, patience and gentleness. His mercy is always awaiting for our acceptance. If you know of someone in need of God's mercy ask them to learn more about the Catholic Faith. Christian Initiation classes are held Sunday's from 11 a.m. until noon in the Formation Center. If they have questions or concerns have them call or text Mike Kelleher at 814-934-4076.
Families and the Gospel
In today's gospel the rich man died and was condemned to "a place of torment" because he ignored the poor. He asked Lazarus to go and warn his five brothers to change their ways. Evidently ignoring the poor was a family pat-tern. Is your family sensitive to the poor?
Annual Pet Blessing Service in the Courtyard
.
There will be a Pet Blessing in the courtyard on Saturday, October 1st, at 11:00 a.m. in honor of Saint Francis of Assisi. Saint Francis had a profound love for all types of animals.

There are many of us human beings, moreover, who know what it's like to have, as companions, a beloved dog, cat, rabbit, gerbil, parrot or ca-nary. There are others who may not have a pet, but who enjoy walking through the woods or along the seacoast where there are all kinds of creatures of land, air and sea to admire and to contemplate
Parish Pictorial Directories
If you did not get the new directory at the socials, they can be picked up at the rectory business office between 7:30 a.m. and 3:30 p.m. Mondays thru Fridays. Also, if you did not have your picture taken, but would like one of the directories, the cost is $5 and may be purchased at the rectory office during regular business hours.
Life Chain
Once again on Sunday, October 2, Citizens Concerned for Human Life will be sponsoring a Life Chain in Altoona from 2-3:00 p.m. The Life Chain will form along 17th Street and 9th Avenue.
Healing Mass
There will be a Healing Mass on Monday, October 17 at 7:00 p.m. at the Cathedral of the Blessed Sacrament. Fr. Bill Kiel from the Diocese of Greensburg, will be the main celebrant. All are welcome, especially those in need of physical, emotional, or spiritual healing, and those who support and care for them as well. Music for Mass will be led by the Cathedral Charismatic Prayer Group Music Ministry.
Calendar Of Cash
Sacred Heart Parish will once again be selling 2017 Calendar of Cash lottery calendars. Calendars are $25 each and pay-outs range from $25 to $500. Calendars are currently available in the rectory business office or you may call the secretary to have your "special" numbers saved. This is the only fund raiser that the parish has. Please be supportive.
In Your Prayers
Please remember in your prayers the health intention of Marcella Adams, Arlene Balestino, Rosemary Barcaro, Barbara Barker, Donald Belsey, Paxton Burr, Kierra Chirdon, Anna Chonko, Denise Conrad, Mary Costlow, Betty Dalansky, Evan Decker, Dominick DeVecchis, Phyllis DiTosti, Thomas Dob-son, Joan Donnelly, Debra Dorazio, Matt Dorman, May Duey, Mike Dutchard, Jacob Eshlenan, Shirley Fanella, Gianna Feather, Kathleen Foster, George Frederick, Mary Frederick, Anna Marie Gority, Helen Gummo, Jean Hagan, Elaine Hauser, Janet Hilton, Michael Himes, Nancy James, Ken Keagy, Larry Knott, Sr., Meredith Kuhns, Riley Marie Lansberry, Perry Lloyd, Larry Lytle, Patty Maria, Tom McGinnis, Brigid McManaman, Vicki Medeiros, Debbie Murtagh, Kevin O'Rorke, Donny Ott, Randy Parson, Joe Peroni, Richard Pi-cano, William Reimer, Rene Reynolds, Camden Rhodes, Joan Robison, Gavin Ross, Christopher and Tina Ruffing, Patty Ruffing, Maureen Sherbine, Jacqueline Smith, Richard Soller, Clara Tomlinson, John Templon, Pete Szebin, Caitlin Thomp-son, Carole Treese, Mary Pat Williams, Angie Yingling and Daniel O'Brien's safe deployment.

In the event our prayers have helped, you are asked to call the rectory to have your name removed from the list. You can always have it put back on if need be. Thank you.

To have a name added to the prayer list, please call the rectory office before noon on Monday to have the name placed in that weekend's bulletin. You must have the person's permission to print their name.