Sixteenth Sunday in Ordinary Time
Sunday, July 17, 2016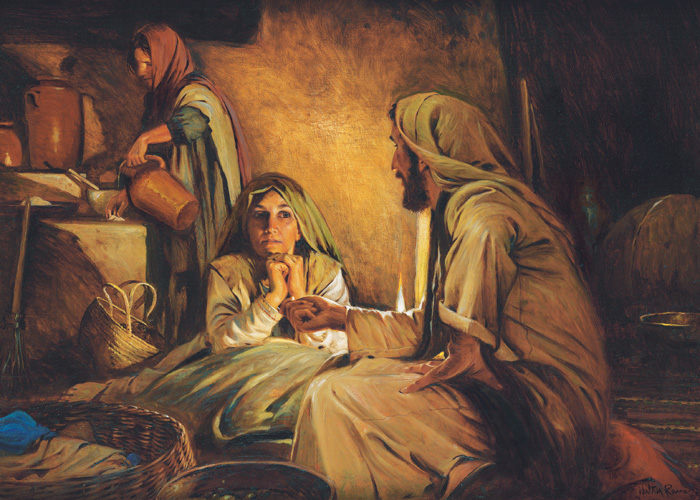 This is Franciscan Father Greg Friedman with the Sunday Soundbite for the Sixteenth Sunday in Ordinary Time.

We might call today "Hospitality Sunday." Our Gospel story is the familiar account of Jesus visiting the home of Martha and Mary. Martha sounds a lot like my Italian grandmother. I remember how, as a child growing up in the house where my grandmother lived, I would watch her prepare for Sunday company. Guests who came to our house would be the center of attention. My grandmother would work feverishly before the guests arrived to prepare the meal. During the meal she would fuss at them to make sure they had enough to eat—of every dish on the table. Woe to you if you failed to sample everything my grandmother had prepared! She imitated Martha's busy concern for guests, making sure they had all they needed.

But there's another side of hospitality besides fussing over the food or accommodations for a guest. It's taking the time to listen, to give the other our full attention. Last Sunday the story of the Good Samaritan urged us to take a risk to become involved with others as a true neighbor. Today we have the "how-to" of Christian neighborliness. In our parishes, neighborhoods, and city, we need both dimensions of Christian hospitality: actively serving while we seek to truly listen and understand.
- An AmericanCatholic.org Site from the Franciscans and Franciscan Media Copyright 1996 - 2016
PRO-LIFE CORNER
In the 1960's and early 1970's, the pro-abortion position was that legalizing abortion would significantly reduce child abuse. In 1973, The Supreme Court legalized abortion. During the next 40 years, child abuse has literally skyrocketed. Indeed, the U.S. Department of Health, Education & Welfare statistics shows a 15-fold increase in child abuse!
The "new and improved" pro-abortion position is that there is no relationship between child abuse and abortion and that making abortion illegal would increase child abuse. If legal abortion reduces child abuse by making sure that every child is a "wanted" child, given that we have terminated the lives of over 56 million children so far, where did all of the children who are being abused today come from? The fact is that the evil of abortion cheapens all human life and makes the degradation and abuse of fellow human beings considerably more likely.
- www.pro-lifearticles.org
Volunteer Lectors
Two volunteer lectors are need for the 11:00 a.m. Mass on Sunday, July 24. Please call the rectory at 943-8553 if you would be available. Thank you.
Religious Education Catechists Needed
We are currently recruiting parishioners to serve as Catechists in our Religious Education CCD program. The volunteer catechist fulfills an important ministry in the Church by participating in spreading the Good News and handing on the treasures of the Catholic Faith. For more information, please contact Judy Wahl at 944-3922. Thank you.
2016 Wedding Anniversary Celebration
Bishop Mark and the Family Life Office cordially invite all couples celebrating 1, 5, 10, 25, 40, 50, 55, and 60+ Wedding Anniversary in 2016 (and their families) to attend the Annual Wedding Anniversary Liturgy. Couples may attend Sunday, September 11 in Altoona at Cathedral of the Blessed Sacrament. The Cathedral is handicap accessible. The Liturgy begins at 2:00 p.m. Bishop Mark will be the celebrant and homilist. Punch and cookies will be available after the Mass for couples and their families. Reservations must be made through your parish by Tuesday, August 23.
Christian Initiation
Do you consider your faith a "better part" of your life? Would you consider welcoming someone to the Catholic Faith? If you know of someone who would like to know more about the Catholic faith, have them contact the rectory at 943-8553 or call or text Mike Kelleher at 934-4076.
Liturgical Reflection..........
Mary sits at the feet of Jesus and listens; Martha is in the kitchen preparing the meal. What does hospitality require? When we invite someone to dinner, we need to provide food and drink and be present to our guest, attentive to her or his needs. The combination of Martha and Mary's gifts does just that. We all must recognize our own gifts. We all must appreciate one another for who we are in the eyes of God. Sometimes this comes easily. Other times it is difficult to acknowledge the gifts of an-other. This is where mercy is very important. May we be graced with mercy to accept and celebrate the gifts of others along with our own gifts.
- 2016, Diocese of Altoona-Johnstown, Liturgy Office
In Your Prayers
Please remember in your prayers the health intention of Marcella Adams, Arlene Balestino, Rosemary Barcaro, Barbara Barker, Donald Belsey, Dee Burchfield, Paxton Burr, Kierra Chirdon, Anna Chonko, Denise Conrad, Mary Costlow, Betty Dalansky, Evan Decker, Dominick DeVecchis, Phyllis DiTosti, Thomas Dobson, Joan Don-nelly, Debra Dorazio, Matt Dorman, May Duey, Mike Dutchard, Jacob Eshlenan, Shirley Fanella, Gianna Feather, Kathleen Foster, George Frederick, Mary Freder-ick, Anna Marie Gority, Helen Gummo, Jean Hagan, Elaine Hauser, Janet Hilton, Michael Himes, Nancy James, Ken Keagy, Larry Knott, Sr., Meredith Kuhns, Riley Marie Lansberry, Perry Lloyd, Larry Lytle, Patty Maria, Tom McGinnis, Brigid McManaman, Vicki Medeiros, Debbie Murtagh, Kevin O'Rorke, Cindy Oswald, Donny Ott, Randy Parson, Joe Peroni, William Reimer, Rene Reynolds, Camden Rhodes, Joan Robison, Gavin Ross, Christopher and Tina Ruffing, Patty Ruffing, Maureen Sherbine, Jacqueline Smith, Richard Soller, Clara Tomlinson, John Templon, Pete Szebin, Caitlin Thompson, Carole Treese, Mary Pat Williams, Angie Yingling and Ian Chilcote's and Daniel O'Brien's safe deployment.

In the event our prayers have helped, you are asked to call the rectory to have your name removed from the list. You can always have it put back on if need be. Thank you.

To have a name added to the prayer list, please call the rectory office before noon on Monday to have the name placed in that weekend's bulletin. You must have the person's permission to print their name.