Second Sunday of Lent
March 17, 2019
LIVE THE LITURGY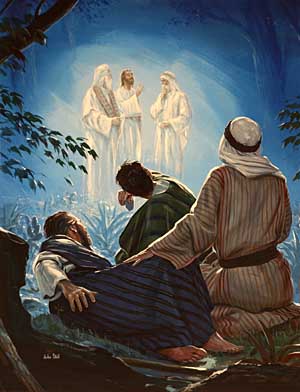 As we enter into this Lenten season of penance and self-denial, we're reminded that the God we follow is no stranger to these things. We see the temptations of Jesus which have parallels throughout Scripture and in our own lives. The apostle John warns against temptations to sensual lust, enticement of the eyes and a pretentious life. The temptations of Jesus are our own.

As we march through Lent, it can be easy to think it's all about sacrifice. No chocolate, no alcohol, no meat on Fridays. Yet here, only in the second week of Lent, we have the story of the transfiguration. This reading reminds us of the "why" behind what we do. We don't fast from dessert to lose weight. We don't donate money or serve others because it's merely a nice thing to do. Lent is about transformation!

Peter, James, and John trudged up the mountainside behind Jesus. This must have been a difficult hike, because when they reached the top, "Peter and his companions had been overcome by sleep." Despite our best efforts, perhaps we, too, can be asleep to the deeper meaning of the Lenten season. Jesus is transfigured while they slumber, but eventually they become "fully awake, (and) they saw his glory and the two men standing with him."

This is no small thing! The disciples witness Jesus in his divine splendor and see the miraculous apparitions of Moses and Elijah. The entire mountain becomes a spiritual breakthrough. "A cloud came and cast a shadow over them and they became frightened when they entered the cloud." These symbols are present in the Old Testament. They are present on Mount Sinai when Moses prayed alone and received the 10 Commandments. Elijah had a similar experience when he prayed alone before God. But here are ordinary men, former fishermen, who have been drawn up into an adventure beyond their wildest expectations. Jesus is the Christ, the Messiah, the fulfillment of all that came before. But Christianity is not the religion of the elite, where only the select few are allowed to participate. We are all invited into spiritual transformation. Lent is a privileged time for this!
Liturgical Publications, Inc
PRO-LIFE CORNER
Protecting human life begins with our opposition to abortion and euthanasia, which are preeminent threats to human life and dignity, and extends to our opposition to cloning, assisted suicide and the death penalty and our efforts to pursue peace.
- U.S.C.C.B..org
RELIGIOUS EDUCATION NEWS
Sacred Heart second grade students will celebrate the Sacrament of First Reconciliation on Saturday, March 23 at 11:00 a.m. There is a luncheon for students and their families immediately following the celebration. This includes Catholic School students also. Please contact Judy Wahl at 944-3922 if you have any questions. Thank you.
REGISTRATION OF PARISHIONERS
We are always happy to welcome new parishioners to Sacred Heart Parish and Saint Mary Parish. Please introduce yourself to a member of the parish staff and register at the rectory. Registration, the practice of stewardship, and regular participation in the Eucharist indicate that a person is an active member of the parish and is eligible to act as a godparent or sponsor. As a Church community seeking to be faith-filled disciples and good stewards, the sacrifice of our time, talent and treasure is essential for the common good.
Sacred Heart Liturgical Ministers
(SH) Schedules for March 9/10 thru June 8/9 are now available in the back of the church. If you are unable to fulfill your assignment you are responsible for finding a substitute. Do not assume someone will be there to fill in for you. There have been a number of missed assignments as of late. Thank you.
CONGRATULATIONS
Congratulations to Megan Forlina, Braden Jubeck, Sophie Lovrich, Dominic Sparacino, Dane Lechner, Hay-den Stephens, Kyleigh Davis and Abby Gondek who received the Sacrament of Reconciliation for the first time on Saturday, March 9 at Saint Mary's. Please keep them in your prayers as they prepare to receive the Sacrament of First Holy Eucharist.
Everyday Stewardship
Stewardship is a lifestyle. It is not a program or a process. It's how we are called to live our lives twenty-four hours a day, seven days a week. It challenges us to live "God-centered" lives, not "self-centered" lives. Reflect on your daily activities, do you do them for the glory of God or for the glory of your own name?
Liturgical Reflection
Plan to spend quality time in prayer before the Blessed Sacrament this Lent. Pope Saint Paul VI said the faithful "should not omit making visits during the day to the Most Holy Sacrament, as a proof of gratitude, a pledge of love, and a debt of the adoration due Christ the Lord who is present in it." The contemplation of Jesus present in the Most Holy Sacrament, as a communion of desire, powerfully joins the faithful to Christ, as is splendidly evident in the church in which the Most Holy Eucharist is reserved should be open to the faithful for at least some hours each day. So that they can spend time in prayer before the Most Holy Sacrament
- Order for the Solemn Exposition of the Holy Eucharist, 1993 2019, Diocese of Altoona-Johnstown, Liturgy Office
Sacred Heart Parish Pastoral Council Nominations
According to Article V in our Parish Council By-Laws, it is time for Nomination of new candidates for membership on Parish Pastoral Council. Please take your time to pray and to consider your personal nomination or nomination of your relative or friend, who can be a great asset for our parish serving in that capacity. You need to be aware that the nominated lay person has to be fully initiated (Baptism, Confirmation and Eucharist) member of our parish in good standing.
In Your Prayers
Please remember in your prayers, the health intention of Allan Bauer, Mark Blackie, Rod Baronner, Denise Conrad, James Conrad, Betty Dalansky, Joan Donnelly, Matt Dorman, Lois Duncan, Fran Fulare, Charles McGrain, Christopher Ruffing, Robert Ruffing, Tina Ruffing, and Susan Sakerak.

If you would like to add a sick or hospitalized person to our prayer list or re-add a person, please call the rectory office, at 943-8553. Parishioners of Saint Mary are encouraged and welcome to participate. Remember, you must have permission of the ill person/family to publish their name.